Welcome to the third installment of the Stepford Wife trilogy!
Who knew I'd get so much mileage out of a campy '70s b-movie thriller???
But then again, who can resist "perfect" robot wives, right? So here we are…
Anyway, thus far we've covered…
== > The Stepford Wife Syndrome – Which is a terrible affliction that occurs when your website sounds like every other business in your industry.
== > Why it's bad for your biz – Because generic messaging fails to attract or engage qualified prospects, and commodifies your business (which is a race to the bottom, and, ultimately, out of business).
== > The solution to this problem – A two-part equation that includes developing your business's unique story + a distinct voice (or personality) in your website content.
== > And how to craft your business's unique story – With a 10-question exercise courtesy of Anne Handley's amazing book (all about marketing writing), Everybody Writes.
The only thing left is defining the second part Stepford Wife Syndrome Cure – Developing your business's distinct voice or "personality."
Voice (AKA the Personality in Your Content)
Now, it might seem like we've left the hardest part of this solution for last. And in a way, that's true… Largely, because "voice" isn't really a common concept in business circles. It's more of a literary notion.
But in the simplest terms, your voice is the personality expressed in your content…
Is your business buttoned up and corporate? Or Hawaiian shirt and flipflop fancy-free? Or somewhere in between?
Wherever your business man land on the personality spectrum, you have to find your voice and weave it into your website content. That's the key to giving your business a distinct personality.
But this is faaaaaaaaaaaaaaaaaaaaaar easier said than done. So here are some examples to illustrate "voice" in action and give you an idea what it sounds like…
Familiar with Spirit Airlines?

They're a discount carrier who invented the "bare fare" concept… No checked bag, no select seat assignment, and just one personal item (i.e. NO stashing a rolly bag in the overhead bin).
But just because Spirit's cheap, doesn't mean they don't have a sense of humor…
Spirit could have just thrown up a generic message or left you to wonder "what the hey?" as their website processes your request. But instead, as the image above demonstrates, they poke a little fun at the annoyance we all share over page loading lag.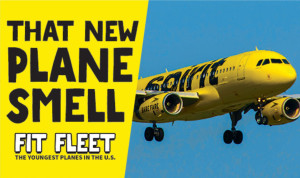 What's one of the first passengers ask themselves after settling into their camped seat on the overcrowded aluminum tube that's about to rocket them through the air?
"Hmmm…I wonder how OLD this plane is?"
By touting "that new plane" Spirit manage to make light of this common passenger anxiety, while boasting the "youngest plans in the US."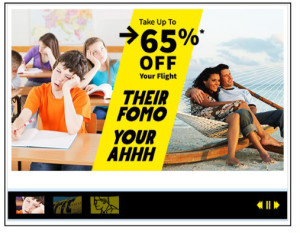 Taking their cues from social media bragging induced envy, Spirit casts the kids as FOMO while stuck in school, as mom and dad are on SWEET vacay!
Even with small gestures like this, Spirit's separate themselves from the average "cheap-o-airline." Instead of just plain ole bargain bin air travel, Spirit's got – personality!
Ever Heard of Moosejaw?
Unless you're into hiking, camping or are generally an "outdoorsy" type, probably not.
But Moosejaw isn't your typical online hiking + camping gear merchant. Except, they are. Confused?
Well, Moosejaw sells the same gear from the same brands – The North Face, Patagonia and more, including their own private label products – as their competitors. But they do it with their own, distinct personality…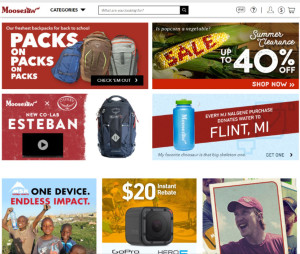 As the screen shots above show, the Southeast Michigan based company is selling "packs on packs on packs," hawking a "summer sale" that wonders if "popcorn is vegetable?" and donating money to Flint, Michigan, a community literally poisoned by of state + local governments' decision to supply the city with contaminated drinking water.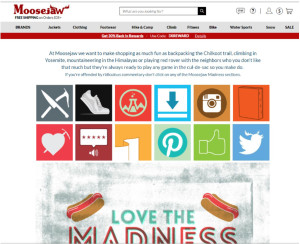 In the Moosejaw Madness section, customers are invited to, well, I'll let them say it…
At Moosejaw we want to make shopping as much fun as backpacking the Chilkoot trail, climbing in Yosemite, mountaineering in the Himalayas or playing red rover with the neighbors who you don't like that much but they're always ready to play any game in the cul-de-sac so you make do.

If you're offended by ridiculous commentary don't click on any of the Moosejaw Madness sections.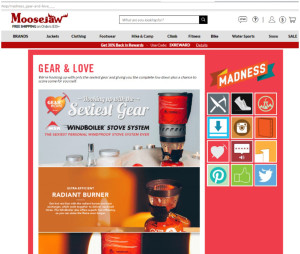 And in their Gear Love section, Moosejaw invites customers to "hookup" with their "sexiest gear."
In other words, same old gear. Fun + distinctive personality that sets Moosejaw apart from the crowd.
A Card Game "Against" Humanity?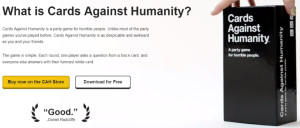 These days, video games seem to dominate the gaming landscape. Card and board games are SERIOUSLY on the decline.
As such, if you're introducing a new card or board game, you'd better bring something genuinely interesting to the table.
Well, Cards Against Humanity does exactly that. What's all the hubbub, bub? Here again, I'll let Cards Against Humanity tell you themselves…
Cards Against Humanity is a party game for horrible people. Unlike most of the party games you've played before, Cards Against Humanity is as despicable and awkward as you and your friends.

The game is simple. Each round, one player asks a question from a black card, and everyone else answers with their funniest white card.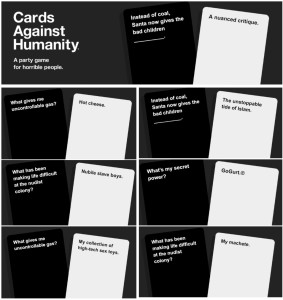 Now, this game is likely to have both Milton & Bradley, not to mention the brother 's Parker doing loopty-loops in their respective graves.
But it's also intruding and clearly NOT your average "game night" fare. A move to spare Cards Against Humanity from the board game industry's current death spiral.
Now It's Your Turn…
Hopefully these examples of website content with LEGIT personality inspire you to define your business's distinctive voice.
If not, swing by my Google+ page and we'll do a little brainstorming.
On the other hand, if these examples spark a creative fire, drop and share your results. Looking to forward to hearing what you come up with!